Dunn Tower Apartments
The Right Place For Your Retirement Years.
Dunn Towers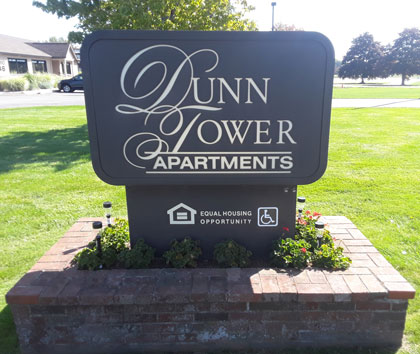 Our properties are located on ten lush, sprawling acres in an attractive suburban setting, which is convenient to churches, dining, shopping, and parks & recreational facilities. We are located on the public transportation bus line (RTS Bus Services). The bus does stop right in front of our buildings for a more convenient service for our residents. In addition, we work with local business and organizations to provide weekly transportation to Wegmans and Gates Town Hall Senior Program, prescription drug deliveries, Foodlink and wellness clinics to promote good health amongst our residents. Social activities within our buildings consist of Bingo, picnics/luncheons/dinners as well as many other engagements that may come up throughout the year.

Therefore, there are three excellent reasons for you to consider living at Dunn Towers: comfort, convenience and security.

But much of the peace of mind at Dunn Towers comes from the facilities themselves. Both properties have excellent security systems as well as 24-hour site maintenance.

Who would have thought that such affordable living could offer so much?

To learn more about the buildings, the many amenities and advantages that our residents enjoy,
click on "Dunn I" or "Dunn II".